How porn can harm your erections
Ever heard one of your friends talk about problems getting an erection? I thought not. Yet if someone writes about it on a forum dozens of men respond with similar stories, what's more, studies have found a third of men have had some kind of difficulty in the last year. The fact of the matter is that men get problems with their erections. While there are many possible causes to erectile dysfunction there's a growing feeling that porn has a lot to answer for.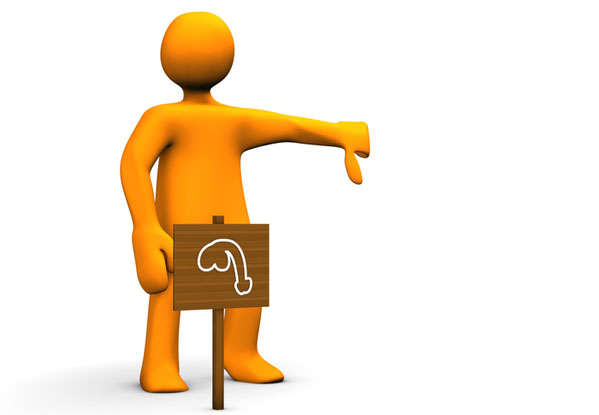 How porn can kill your sex life

You don't need us to tell you that porn is cheaper, more plentiful and easier to get hold of than ever before. Trouble is too much of a good thing can most definitely be bad.
Basically, too many adult sites numb how your brain responds to pleasure. Too many erotic images can make you desensitised
and rewires your brain to crave the quick hit of pleasure you get from a porn-fuelled orgasm.
Doctors call this an 'idiosyncratic masturbatory style'…which basically means getting used to a type of stimulation that's very different to real sex.
So what's the effect? When you are with a real life partner your brain responds differently and, in turn, so does your body. This can mean difficulty keeping an erection during sex, delayed ejaculation and only being able to ejaculate with manual or oral stimulation. In other words you are terrible in bed.
If you want more science check out the video or go to yourbrainonporn.
What can be done?
Cut down on your porn use
Seems obvious but limit your usage. Instead use your memory to recall past sexual experiences (also known as your personal the spank bank).
Check out this massive community of men giving it up completely to 'reboot' their systems.
Take a break from masturbation
Save your juice for your partner. If you are single then try to do it less often and use your non-dominant hand. If you are left handed use your right hand and vice-versa: you won't be able to create such an intense feeling for yourself and that means you won't be numbed to the sensations of real-life sex.
Don't be nervous
Many times erection problems are caused by sheer nervousness. When your are stressed the body releases chemicals which make it ready for fight or flight. The problem is it's simply not possible to have an erection while these chemicals are flowing around your system. Think about it: if you were going to be chased by a tiger the last thing your body would need is an erection.
Try to be in the moment with your partner. Take some deep breaths, enjoy it and relax. If you are thinking to yourself 'I hope I'm getting hard….I hope this is going to be ok' then you are heading for disappointment.
Be honest
If you lose your erection then don't make a big deal of it, don't make excuses or try to ignore it. Tell your partner that you are nervous and that it's nothing they did wrong (women can easily blame themselves for not being attractive enough). Then talk about or do something else; don't dwell on it.
Take the pressure off yourself
A good rule of thumb for men to follow at all times is to make a woman orgasm BEFORE you have sex with her. Satisfy her first so that anything afterwards is a bonus. If you are having erection difficulties then not having sex won't seem such a big issue if you've already made her climax.
Lube is your friend
If you are having problems keeping it up at the crucial moment (i.e. penetration) then lube can help the situation greatly. Often if a woman knows you are having problems she will get nervous too and dry up. If you take a dry vagina and a fragile erection then it's only going to end in disaster.
Lube up generously and you are making the actual penetration much easier.
Leave a Reply