How to avoid getting caught using porn

With the rise of the internet, more people are accessing porn than ever before….trouble is, being found out is just as embarrassing as it's ever been.
Spare a thought for the office worker who got photographed watching porn at work or the university professor who forgot his computer was still linked to a projector.

Make no mistake, the ways of being caught are numerous, however, here are some of the basic steps that can help avoid a bucket full of shame.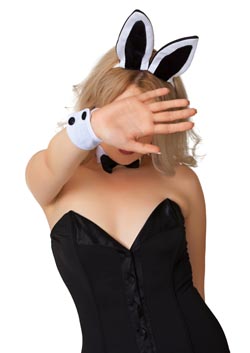 1. Private browsing
The most basic way to get caught browsing adult material is for your computer to record what you've been doing and someone else seeing it.
By switching on private browsing it means what you do won't be added to your history list, your autofill settings won't be recorded and Google won't remember your searches. It also means sites you visit won't be able to leave 'cookies'  on your computer.
Here's how to switch to private browsing;
Chrome:
Go to 'Tools', which you can usually get to by clicking the wrench icon at the top right-hand corner of the screen
When you've got chrome open hit the button on the tool bar at the top of your screen.
Choose the option New incognito window.
A new window will open up with this icon in the corner.
If you are using a Mac you can use the shortcut ⌘-Shift-N to open an incognito window. If you're using Windows, Chromes OS or Linux you can do the same thing with Ctrl+Shift+N.
Safari:
1. Open up your safari browser as normal
2. Click 'Safari' from the menu at the very top of the screen
3. Select 'Private Browsing' from the menu and that's it – you're rolling!
Firefox:
1. Open up Firefox.
2. Click 'Tools' from the menu at the very top of the screen
3. Choose 'Start Private Browsing' from the drop down menu and you're done.
Internet Explorer:
1. When Internet Explorer is open click 'Tools' (it might be a gear symbol near the top right).
2. Select 'Safety' then choose 'InPrivate Browsing'
You can also go private in Internet Explorer by hitting Ctrl+Shift+P at the same time.
2. Avoid dangerous porn sites
It's no secret that porn sites can be risky: viruses and fraud are not uncommon. For that reason it's incredibly important to be careful where you visit: get your computer infected with a virus and explaining how it got there could get difficult.
Take a look at this nightmare scenario.
Always stick to safe porn sites and make sure you computer is well protected from viruses (download our guide to free antivirus protection at the right of the page) and make sure you keep downloading any software updates.
3. Have something non-pornographic that you can switch to quickly.
You've probably already worked out this is a good idea but if you haven't; keep something else open that you can switch to quickly if someone else walks into the room.
Here are a few tips
A fast way to switch to something innocent is to hit Alt + Tab (Cmd+Tab for Mac users) to switch to another programme you've got running like word or emails.

To avoid the name of a site being displayed at the top of your browser, open so many new tabs that there isn't enough room for the names to be properly displayed.

Only have porn site open at a time – that way you avoid the risk of switching to another adult page by accident.

For the reason above be disciplined; if you open a new site close the last one.

Be VERY careful of pop under ads being opened that you aren't aware of; you may close your browser and find an embarrassing advertisement that was triggered by one of the sites you visited.
4. Turn off confirmation warning for closing multiple tabs.
Some browsers, like Firefox, will ask you if you're sure you want to close all your tabs at the same time. If you were trying to close everything down quickly to avoid being caught, this could cost you precious seconds.
Find out if it's going to be a problem beforehand by testing it out. If you get asked if you're sure you want to close everything then there should be an option to stop you being asked again in the future.
5. Set up your station carefully
Have a good think about your location before you go to any adult sites. Ask yourself 'Is there any way someone could see what I'm doing?'
Check for mirrors behind that could reflect what's on your screen.
Make sure there are no windows behind that could give people a view of what you're doing…also check for any security cameras.
Double check that you haven't done something really stupid like leave a projector screen plugged into your laptop.
Face the door so that you see anyone coming and hide what you're doing.
Make sure the sound is turned down!!!
6. Clean up afterwards.
If you haven't been using your browser in private more you're going to have to clean up everything from your computer. You will have to delete temporary files, cookies and any other history showing where you've been browsing (ask google for advice on doing these).
Be warned; if you delete everything it's going to be obvious you're hiding something. For that reason consider deleting just the stuff relating to your pornographic adventures.
Remember that if you use Flash Viewer to watch porn then there will be a list of sites you've visited in the Flash content folder.
To find and destroy this little snitch go to C:\Documents and Settings\USERNAME\Application Data\Macromedia\Flash Player\#SharedObjects\RANDOMNUMBERS and delete it manually.
Other tips:
Do not browse porn in work! It is just not worth the risk – getting humiliated is one thing, losing your job is another. Plus the danger of getting caught is so much greater with so many people around you and system administrators monitoring what's going on

Do not 'like' anything that could cause you embarrassment: it could show up on your facebook wall. Take similar caution with any tweet buttons you come across on adult sites.

Be careful of any user names that might identify you. As an example, if your email address is daz1981@gmail.com and you upload videos to a porn hub site with the username 'daz1981′ then you could get into trouble if someone decided to google your email address.

Remember that even if you delete files permanently from your system they can still be recovered. Just about the only way to be sure would be to take a sledgehammer to your system.
Leave a Reply